With V5Pro, the VSTRack becomes the DSPRack with the introduction of AU(audioUnit) support. So now users have both VST2.4 and Audio unit plug-in access. Steinberg have deprecated 2.4 use for new plugins, so start moving over to AudioUnit.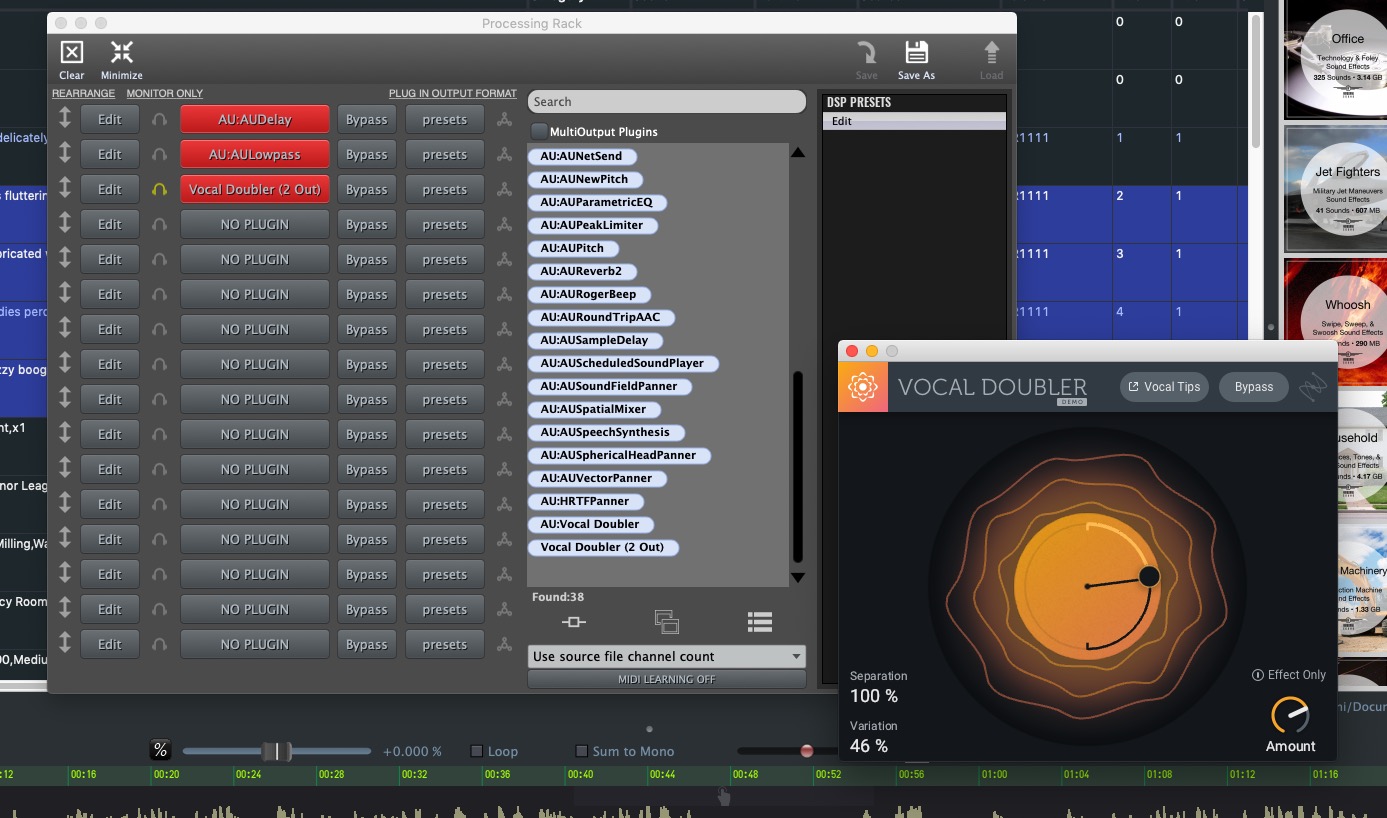 The DSPRack allows you to build your own "rack" of plug-ins right in the Browser. In fact, you can insert up to 16 plug-in layers. To bring up the DSPRack, hit the focus key V or add the DSP icon to your Tool bar or call it up from the Window Menu: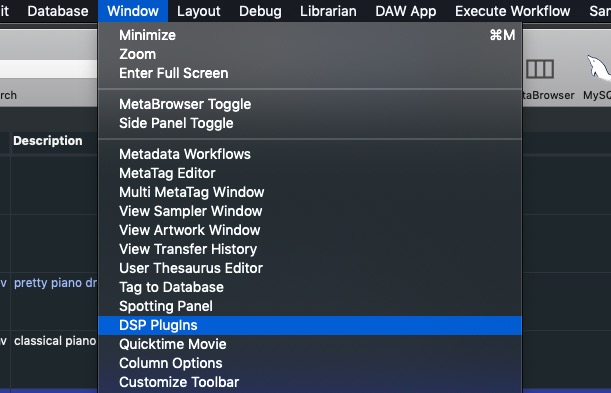 V5Pro also now allows you to search all your DSP plugs making the process of finding and using them much quicker. Dragging the desired plug-in from the right pane into one of the DSP slots instantiates a plug in. And clicking on the plug-in name allows you to change or delete it from the slot. By instantiating plug-ins in the DSPRack, you are effectively inserting the plug-ins right into your monitoring path. This allows you to play, in real time, with all your sonic add-ons. In addition, transfers out can have the effects run through and applied to new file.
Each individual DSP Plug-in can be edited and bypassed individually. Each plug-in can be set to monitor only or applied on transfer. Each plug-in can be rearranged as desired. And each plug-in's output setting can be customized: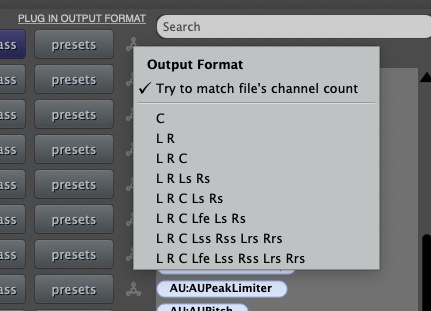 ProTip
You typically only need to modify the output settings when upmixing or downmixing. Usually Soundminer adjusts the plugin if possible to use the same inputs and outputs as your source file.
At the bottom you have global controls for bypass, show/hide all plugs, and re-scan for new plug-ins. In addition, you have control on how to use the output channels, standard, upmixing, down mixing or first channel only: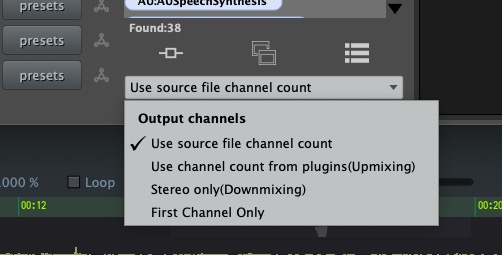 Once you build a series of plug-ins, all with your settings tailored to your work, you can save that as a 'RACK'. You can SAVE/RECALL your favourite rack settings as well as easily clear the rack from the preset menu.

In addition, you can import/export presets in the DSP Preset pane, including 4.5 presets.
ProTip
You can also drag presets from the preset list to your desktop to email to someone else.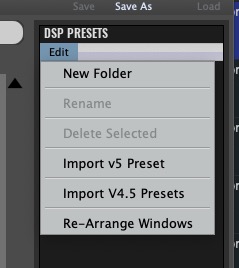 As soon as you instantiate a DSP plug in, the system automatically will be set to transfer through the Rack. DSP plugins in the editor menu are floating. You still have complete control over playback of your Browser in most cases while they are on the screen(some plug-ins do take back control). They remain active even when closed. To toggle the VSTRack so it is visible use the focus key V or go to the Window Menu and select VST Plugins. With it visible, clicking EDIT button for any of the loaded plugins will bring up the editor.
If using a time domain plugin like Reverb or Delay you can account for the extra 'tail' needed in your Preference>Transfers pane.
DSP Scanner: when you first call up the rack, it'll open up every plugin in your master VST and AU folders in order to gather information to build a list. It'll cache this information into the support folder into a file called plugins.sqlite(should you need to force a "rescan" of plugins you can do this by deleting this file.) This shouldn't be necessary as it'll recognize when plugins are removed and added to the folder. One possible scenario would be if a plugin fails its authorization process(if an ilok isn't connected for instance) and the information would be invalid. New routines have been added in V5Pro that make this more efficient.
Plugins remember screen position(even in rack save/recall)
DSP Rack has clear rack function…removes all plugins.
Master bypass in DSP Rack and beside is the toggle button to cycle between open windows. You can also option click on the DSP Icon in the toolbar to toggle windows open and closed.
MIDI learning allows those with MIDI controllers to use knobs and faders to control individual parameters within the plug-ins. When turned on, if your DSP plug-in supports automating it(most do), you can usually click on a parameter and move it, then if you simultaneously move a controller, that parameters will synchronize with that MIDI controller numbers. Multiple controllers across multiple plug-ins can be set and stored in the DSP Rack. You can use the same midi controller as setup in the Radium Sampler. Allowing you to control DSP parameters from one midi keyboard.
Some new additions under V5Pro
V5Pro now supports 64-bit VST2 and AU2 plug-ins